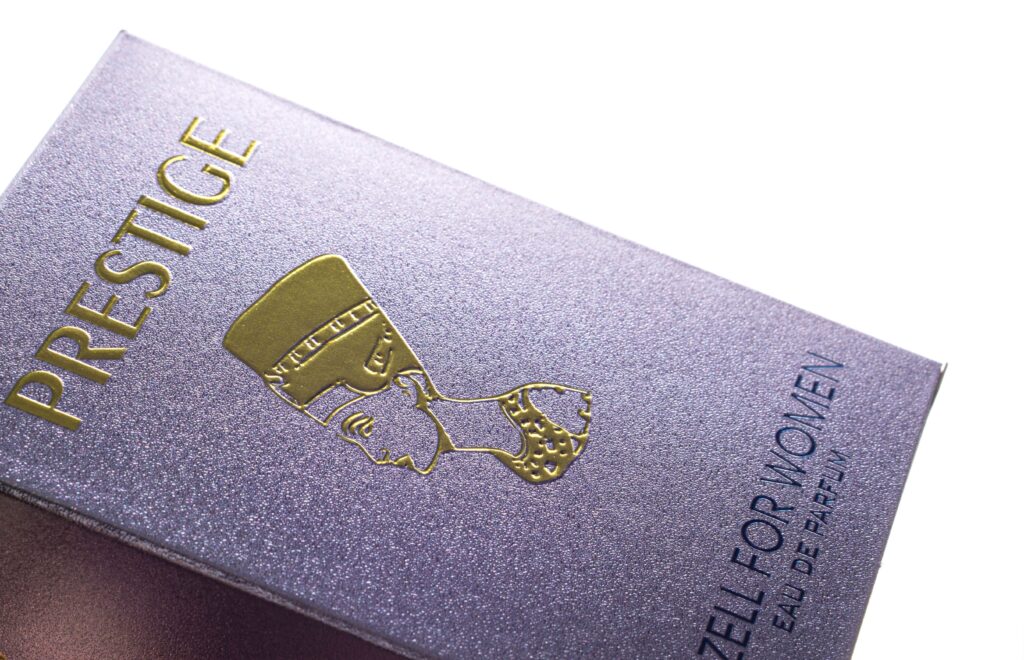 Hot stamping
Hot stamping is one of the enhancements that can take packaging and brand image to a whole new level. Since metallized foils are most commonly used, the graphic design of the packaging is highlighted with stylish gilding or silvering.
Advantages of hot stamping:
1. The method is environmentally friendly, as the films used are recyclable along with the paper or cardboard substrate. This is certainly a big plus for consumers who want to choose brands and products whose packaging is designed and produced sustainably.
2. Improved shelf visibility. The shiny, metallized elements of the packaging lend it an elegant, even luxurious look while also attracting consumer attention. This makes it easier for prospective buyers to discern and remember your brand.
3. Works perfectly with other printing techniques. Hot foil stamping can be combined with other enhancement methods, such as embossing, to obtain even more spectacular effects.
4. Supports brand image and perception. The eye-catching sheen of gilding or silvering are cues that speak to the exclusive nature of the product. The quality of a product is often associated with its packaging, which is why hot stamping enhancements can help build a unique brand image and shape consumer perception. A well-forged brand image sets you apart from the competition and draws consumer interest to your products.
5. Hot stamping can be used to embellish packaging in various market segments. Enhancements of the kind may be seen on numerous products across a range of industries: from cosmetics, fast-moving consumer goods (FMCG) to electronics and more. The technique is extremely flexible, so it can be adapted to distinct needs and requirements, boosting the visual appeal of the packaging every time.