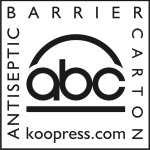 We are very pleased to present you the result of many months of research and experience of our Research and Development team, TEH TRANSFER company, and the Faculty of Biology from the University of Warsaw, crowned with the patent application.
This is the first implementation both in Poland and globally of a print security coating with highly effective antiseptic and barrier properties.
We have created a new category of packaging - ABC (Antiseptic Barrier Carton), particularly dedicated to the pharmaceutical, cosmetics, and food industry packaging where antiseptic standards are highly important.
The results of our research and development work show a positive effect on the cardboard packages' properties: